Research
Open Access
Open Peer Review
This article has Open Peer Review reports available.
Promoting universal financial protection: how the Thai universal coverage scheme was designed to ensure equity
Health Research Policy and Systems
2013
11:25
Received: 30 November 2012
Accepted: 18 June 2013
Published: 6 August 2013
Abstract
Background
Empirical evidence demonstrates that the Thai Universal Coverage Scheme (UCS) has improved equity of health financing and provided a relatively high level of financial risk protection. Several UCS design features contribute to these outcomes: a tax-financed scheme, a comprehensive benefit package and gradual extension of coverage to illnesses that can lead to catastrophic household costs, and capacity of the National Health Security Office (NHSO) to mobilise adequate resources. This study assesses the policy processes related to making decisions on these features.
Methods
The study employs qualitative methods including reviews of relevant documents, in-depth interviews of 25 key informants, and triangulation amongst information sources.
Results
Continued political and financial commitments to the UCS, despite political rivalry, played a key role. The Thai Rak Thai (TRT)-led coalition government introduced UCS; staying in power 8 of the 11 years between 2001 and 2011 was long enough to nurture and strengthen the UCS and overcome resistance from various opponents. Prime Minister Surayud's government, replacing the ousted TRT government, introduced universal renal replacement therapy, which deepened financial risk protection.
Commitment to their manifesto and fiscal capacity pushed the TRT to adopt a general tax-financed universal scheme; collecting premiums from people engaged in the informal sector was neither politically palatable nor technically feasible. The relatively stable tenure of NHSO Secretary Generals and the chairs of the Financing and the Benefit Package subcommittees provided a platform for continued deepening of financial risk protection. NHSO exerted monopsonistic purchasing power to control prices, resulting in greater patient access and better systems efficiency than might have been the case with a different design.
The approach of proposing an annual per capita budget changed the conventional line-item programme budgeting system by basing negotiations between the Bureau of Budget, the NHSO and other stakeholders on evidence of service utilization and unit costs.
Conclusions
Future success of Thai UCS requires coverage of effective interventions that address primary and secondary prevention of non-communicable diseases and long-term care policies in view of epidemiologic and demographic transitions. Lessons for other countries include the importance of continued political support, evidence informed decisions, and a capable purchaser organization.
Keywords
Continued political supportFinancial risk protectionTax-financed universal schemeThailandUniversal health coverage
Background
In 2001, prior to the achievement of universal coverage of health care, approximately 30% of the Thai population were uninsured despite the gradual extension of coverage to various population groups [1]. Universal coverage was achieved in 2002 [2] under the leadership of Prime Minister Thaksin Shinawatra of the Thai Rak Thai (TRT) party. Beneficiaries in the Medical Welfare Schemes, the publicly subsidized voluntary insurance scheme, and the uninsured 30% of the population, were combined and covered by a new universal coverage scheme (UCS), financed through general taxation. The Civil Servant Medical Benefit scheme (CSMBS) and Social Health Insurance (SHI) for public and private sector employees remained as independent schemes. Detailed features of all the three schemes have been described elsewhere [3].
Evidence on equity and financial risk protection of UCS
As a result of continued assessment [
4
], evidence shows increased equity of health financing and improved financial risk protection with the introduction of universal coverage [
5
]. First, there is progressive tax financing for the UCS as the rich pay a higher proportion of their income in taxes than the poor [
6
]. Second, there is a pro-poor use of health services because the easily accessible district health system is contracted as the provider network [
7
]. Third, government health spending favoured the poor prior to universal coverage in 2001 and the same trend has continued in subsequent years, in particular at district and provincial hospitals; these pro-poor subsidies were a result of pro-poor utilization [
8
]. Fourth, there was improved financial risk protection, as measured by the very low incidence of catastrophic health expenditure, which dropped amongst the poorest quintile from 6.8% in 1996 (prior to universal coverage) to 2.9% in 2009, and amongst the richest quintile from 6.1% to 4.7% (Figure
1
) [
9
]. There was a statistically significant difference between rich and poor in all years, except in 2000 (
P
= 0.667) [
9
].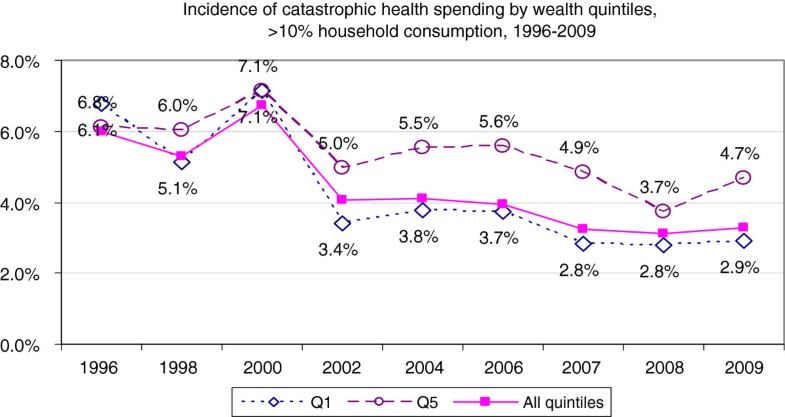 Finally, the incidence of medical impoverishment is low and decreasing, as measured by the additional number of people falling under the national poverty line because of health payments; this reduced from 11.9% in 2000 (prior to universal coverage) to 8.6% in 2002 and 4.7% in 2009. The main reasons for continuing out-of-pocket expenditure are UCS members choosing private hospital inpatient care [10] not covered by the UCS or bypassing the referral system and hence bearing the full cost.
Features contributing to equity and financial risk protection
Four key system features contribute to the equity outcome and financial risk protection. First, general tax (rather than premium contributions by UCS members) was unanimously chosen as the major source of financing; a small co-payment of THB 30 (US$ 0.7) per visit or admission was applied in 2001 but removed in 2007. Second, universality was adopted in 2001 instead of a targeting policy. Targeting proponents recommended increasing coverage to population subgroups, such as effective coverage of poor households, extension of SHI to cover spouse and children, voluntary enrolment of more self-employed SHI members through flat-rate monthly contributions, boosting the publicly subsidized voluntary insurance scheme for the informal sector, and stimulating private voluntary health insurance uptake by the rich. Advocates for universality promoted the constitutional right to healthcare of all citizens, and argued that it was time that Thailand ended the 27-year struggle with the targeting approach given that 30% of the population was still uninsured by 2001, and that the mechanism to identify the poor was not effective in fully covering the real poor and preventing the non-poor from getting a free health card due to nepotism in the local community. Further, coverage of the voluntary element of SHI was low, as the premium had to be fully paid by individual contributions with no subsidy from employer or government. Third, the option of a basic minimum package was defeated without much debate in favour of a comprehensive package. Furthermore, the National Health Security Office (NHSO) responsible for the UCS has subsequently taken steps to expand coverage to a number of illnesses that can produce catastrophic costs for households, boosting financial risk protection. Fourth, NHSO successfully secured the additional funding needed for the expanded benefit package.
The agenda setting and policy formulation stages of the universal coverage have been fully investigated [11]. Given the centrality of the four inter-related features (general tax finance, universality principle, financial risk protection, and securing adequate funding) to ensuring an equitable outcome and financial risk protection, this study seeks to explain how and why these features came about. How did different actors with varying powers, influence and positions, within the given context of decision-making and governance, interplay in shaping these features?
Methods
In line with the conceptual framework in Figure
2
, a policy analysis tool [
12
] was applied to assess the policy actors, networks and communities [
13
], and the process and context in relation to decisions on the four inter-related design features. Methods included document reviews and in-depth interviews of key informants (KIs) who were policy actors, including policy elites [
14
] (the authoritative decision makers who are either supportive or non-supportive or who can be positively or negatively affected by these features), civil society representatives and academia.
Ex-ante
, a number of KIs were identified from those closely involved with these design elements. The initial interviews were iterative and exploratory; additional KIs were further identified through a snowball process until saturation of evidence. Researchers developed a semi-structured interview guide in line with the conceptual framework which focused on who, when, why and how policy actors interacted and negotiated until the proposed features were adopted. The tool was finalized after testing with two KIs in the NHSO. To ensure consistency, all KIs were interviewed by one co-author; conversations were tape recorded with consent, and transcribed in Thai by two co-authors.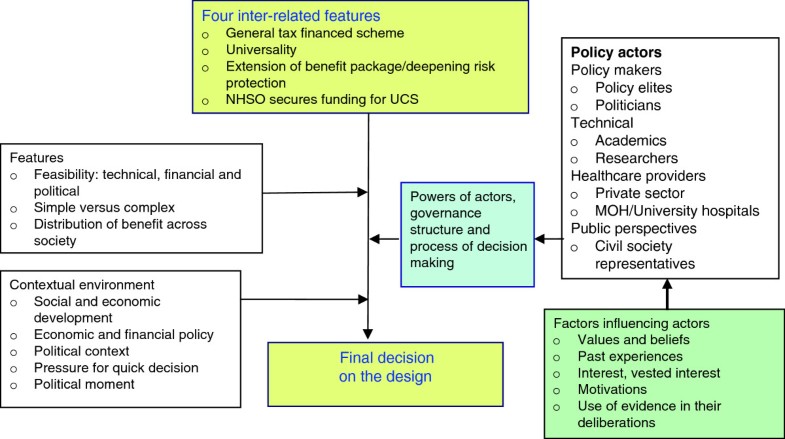 The literature review was performed first, though interviews with KIs were initiated concurrently. Relevant documents were retrieved from the NHSO for analysis, in particular minutes of the monthly meetings of subcommittees on Financing and Benefit Package and of the National Health Security Board (NHSB) between 2003, when the NHSO was set up, and 2010. Information from interviews was triangulated and verified against evidence generated from reviews of relevant documents such as minutes of various meetings and/or with other KIs for accuracy and consistency. A number of re-interviews of KIs were conducted for clarification and to probe related issues.
NVIVO was used for analysis, based on the four features and subthemes that emerged from interviews, namely actors, their power and motivations, interactions amongst them, and the contextual environment within which each feature was discussed, negotiated and adopted.
The study received ethical approval from the WHO and the National Ethics Committee. Data and tapes are securely stored and will be destroyed after five years. Fieldwork was conducted in the second half of 2011. In total, 25 knowledgeable individuals were identified and interviewed. Within these, there were five policy makers, five programme implementers, four academics, five researchers, and six stakeholders (two from CSMBS and SHI, one private provider, two public providers, and one civil society organization). These individuals included both supporters and non-supporters of the four design features, as judged based on the positions they adopted in 2001–2002.
Conclusions
Studies such as these explore complex processes that require careful interpretation. Some of the authors have been heavily involved in the evolution of universal coverage and perhaps because of this it was not easy to identify and solicit from KIs opposing views to the UCS design features. This may mean the study had a positive bias. In order to address this, findings from interviews were verified and triangulated carefully with written sources.
Policy processes are likely to be highly context-specific, but by elaborating the Thai experience in this paper, it is hoped that other countries can identify useful lessons from the management of the process. In Thailand, the political commitment to universal coverage and financial feasibility triggered the decision of a tax-financed UCS rather than targeting of subsidies and individual contributions. The operational capacity of the NHSO, guided by evidence and pressured by the civil society concerned about equity and financial protection, contributed to deepening financial risk protection and benefiting members. Gradually, the UCS has become owned by its members (75% of the population) and is less subject to political changes, though continued political support is vital. Budget proposals based on evidence of cost and utilization have furnished a level ground for negotiation on quantifiable indicators. The new transparent budgeting approach of UCS limits discretionary power and has replaced supply side-line item budgeting. Lessons for other countries include the importance of consistent political support, evidence informed decisions, and a capable purchaser organization.
Public expenditure on health, now at 12.7% of the annual government budget, is of concern, although less than 4% of GDP is spent on health. Continued research is needed on long-term financial sustainability, especially in the context of a rapidly ageing society and technological progress. However, research should also continue on the processes of universal coverage development, to learn how the new institutional arrangements become embedded in Thai politics and society and how they evolve in the longer term.
Future success of the Thai UCS will require coverage of effective interventions, which address primary and secondary prevention of non-communicable diseases in view of the rapid epidemiologic transition. These interventions often lie outside the health territory, such as effective control of tobacco and alcohol use, and community based interventions to prevent obesity and support active physical activities. In view of the demographic transition, Thailand needs effective long-term care policies, as elderly care occupies a large part of acute hospital services.
Abbreviations
CSBMS:

Civil servant medical benefit scheme
GDP:

Gross domestic product
KI:

Key informants
MOPH:

Ministry of public health
NHSB:

National health security board
NHSO:

National health security office
RRT:

Renal replacement therapy
SG:

Secretary general
SHI:

Social health insurance
THB:

Thai baht
TRT:

Thai Rak Thai party
UCS:

Universal coverage scheme.
Declarations
Acknowledgements
We acknowledge that this study is financially and technically supported by the Alliance for Health Policy and Systems Research, WHO. We also wish to acknowledge the inputs of the Health Systems Financing Department, WHO and the late Dr Guy Carrin, in particular.
Authors' Affiliations
(1)
International Health Policy Program, Ministry of Public Health, Thailand
(2)
London School of Hygiene and Tropical Medicine, University of London, London, UK
Copyright
© World Health Organization; licensee BioMed Central Ltd. 2013
This article is published under license to BioMed Central Ltd. This is an Open Access article in the spirit of the BioMed Central Open Access Charter http://www.biomedcentral.com/info/about/charter/, without any waiver of WHO¿s privileges and immunities under international law, convention or agreement. This article should not be reproduced for use in association with the promotion of commercial products, services or any legal entity. There should be no suggestion that WHO endorses any specific organisation or products. The use of the WHO logo is not permitted. This notice should be preserved along with the article's original URL.