Review

Open Access

Open Peer Review
This article has Open Peer Review reports available.
Evidence for Health I: Producing evidence for improving health and reducing inequities
Health Research Policy and Systems
2016
14:18
Received: 13 February 2015
Accepted: 16 February 2016
Published: 14 March 2016
Abstract
In an ideal world, researchers and decision-makers would be involved from the outset in co-producing evidence, with local health needs assessments informing the research agenda and research evidence informing the actions taken to improve health. The first step in improving the health of individuals and populations is therefore gaining a better understanding of what the main health problems are, and of these, which are the most urgent priorities by using both quantitative data to develop a health portrait and qualitative data to better understand why the local population thinks that addressing certain health challenges should be prioritized in their context. Understanding the causes of these health problems often involves analytical research, such as case-control and cohort studies, or qualitative studies to better understand how more complex exposures lead to specific health problems (e.g. by interviewing local teenagers discovering that watching teachers smoke in the school yard, peer pressure, and media influence smoking initiation among youth). Such research helps to develop a logic model to better map out the proximal and distal causes of poor health and to determine potential pathways for intervening and impacting health outcomes. Rarely is there a single 'cure' or stand-alone intervention, but rather, a continuum of strategies are needed from diagnosis and treatment of patients already affected, to disease prevention, health promotion and addressing the upstream social determinants of health. Research for developing and testing more upstream interventions must often go beyond randomized controlled trials, which are expensive, less amenable to more complex interventions, and can be associated with certain ethical challenges. Indeed, a much neglected area of the research cycle is implementation and evaluation research, which often involves quasi-experimental research study designs as well as qualitative research, to better understand how to derive the greatest benefit from existing interventions and ways of maximizing health improvements in specific local contexts. There is therefore a need to alter current incentive structures within the research enterprise to place greater emphasis on implementation and evaluation research conducted in collaboration with knowledge users who are in a position to use the findings in practice to improve health.
Keywords
Decision-making
Evidence-based medicine
Health equity
Health policy
Public health
Research
"Even if the cure for HIV was one glass of clean water, we wouldn't be able to cure the world." – Technical Officer at the World Health Organization, Geneva, Switzerland
Background
To help people make better-informed decisions about improving health and reducing health inequities, an important question is, what evidence is needed in supporting these decisions [1]? There is a large body of biomedical research evidence that looks at single diseases and considers randomized controlled trials (RCTs) to be the gold standard in determining whether a given medicine or device will benefit a specific patient group as compared to no treatment (i.e. placebo) or the current standard of care. However, in the field of public health, where the aim is to improve the health of entire populations, a more complex arsenal of research study designs are needed that better address the complexity and contextual nuances involved, as well as ensuring that research evidence is co-produced with knowledge users who are able to implement changes that in practice will lead to improved health outcomes. Even for diseases where there is a known prevention or cure, people are still dying from these conditions because we lack knowledge on how to make these treatments work in practice in a variety of contexts. The purpose of this article series is therefore to describe how to produce evidence for improving the health of populations and how to ensure that this evidence is then used to make better informed decisions for health. The first article in this series focuses on the different kinds of study designs and approaches that can be used, beyond the traditional focus on RCTs, for producing evidence that can help to improve population health and reduce health inequities.
Review
It may appear self-evident, but the type of research studies needed to build up the evidence base on how to improve population health and reduce inequities depends on the research questions being asked. For instance, if you want to know the most pressing health priorities in a given population, then you cannot use an RCT to answer this research question. Rather, you might use a cross-sectional survey, a longitudinal panel or a qualitative interview study with key informants. Therefore, different types of research studies are needed to answer different research questions at different stages in the research cycle (Fig.
1
). Increasingly, research for health is becoming more multidisciplinary and intersectoral in nature to reflect the growing appreciation that improving health requires intervention at multiple levels, including action on the social determinants on health [
2
]. The research cycle presented here is therefore an iterative process that involves co-production of knowledge between researchers and decision-makers and provides supporting evidence for the series of actions that are required to improve the health of individuals and populations.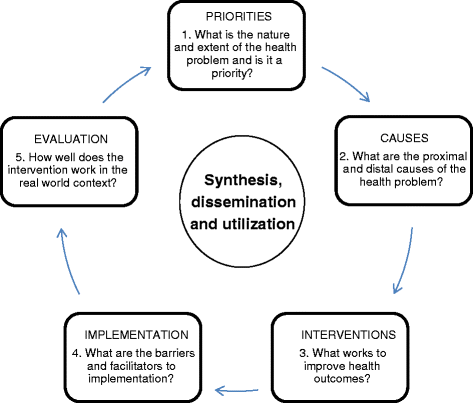 Conclusions
There are many different types of research studies that can help to answer a wide variety of research questions. However, in practice, there are certain types of studies that generally prevail, whereas other types are few and far between. For instance, until recently, there was relatively little work in the area of implementation and evaluation research as most research was focused on earlier stages of the research cycle. Indeed, researchers would develop research protocols, apply for funding, conduct their research studies to measure disease or understand causes or test simple disease-specific interventions, prepare manuscripts for publication in high-impact peer-reviewed journals often concluding that "more research is needed", and then start the process all over again – essentially bypassing the implementation and evaluation stages. Therefore, organizations which support research must acknowledge the importance of implementation and evaluation research and provide the necessary resources to develop research capacity and support submitted proposals to strengthen the knowledge base in these fields of research.
It is also increasingly being recognized that research evidence will have very little effect if it does not reach the local knowledge users who are in a position to apply this information to motivate change. Ideally, according to Parry et al. [26], these knowledge users and decision-makers should be engaged in the research process from the very outset, to help inform the key knowledge gaps that need to be addressed and to then 'translate' the evidence into policy and practice. This increased emphasis on 'integrated knowledge translation', also known as co-production of research evidence, certainly requires more time and effort to build up the required interdisciplinary and intersectoral partnerships, but it also increases the chances that the research findings will be applied and used in practice and will yield tangible results in the long run. Integrated knowledge translation implies that researchers must play an important role in helping knowledge users frame health priorities in a way which can be addressed by the different kinds of research study designs available, often requiring mixed methods approaches to tease out complex issues.
Even if researchers are progressively being encouraged to think about how the research findings can be applied in practice and can now apply for a growing number of knowledge dissemination grants, there nonetheless remain perverse incentive systems in the way that research is funded which lead to some types of research being prioritized over others; not because it is more important nor because it will lead to more significant health gains, but due to the way in which the research enterprise is structured. In this regard, researchers, especially in academic settings, tend to focus on 'publications', 'professorships' and 'patents', rather than 'policy', 'practice' and 'people' [27]. Indeed, the evidence base is hugely biased towards basic science and clinical research (e.g. the effect on blood pressure from using anti-hypertensive medications) rather than population research (e.g. the impact of grassroots community development and social norm modification on the incidence of family violence and child maltreatment). Pratt and Loff [28] further argue that research legislation and policies used in high-income countries have increasingly led these countries to invest in health research aimed at boosting national economic competitiveness rather than reducing health inequities and that the 'gadget health' approach "diverts funding away from research that is needed to implement existing interventions and to strengthen health systems, i.e. health policy and systems research".
To ensure that we do not lose sight of the true goals of health research, it is important to look at the big picture and not be blinded by academic or commercial interests, such as the 'publish or perish' imperative or the hype surrounding new technologies [29]. There are no 'magic bullets' or easy cures for the world's health problems, which are largely a reflection of underlying economic, social, cultural and political problems. Further, there is little point in producing all of this research evidence if it is not used to make better-informed decisions and policies to improve health. Incentive systems, such as greater availability of funding mechanisms and research awards tailored to this area, and which recognize the importance of applying research in practice, are therefore required. Beyond the amount of publications produced, what if researchers were instead judged based on their efforts to inform the development, implementation and evaluation of policies and programs that prevent human suffering, save lives and reduce inequities? Perhaps then we really would see the benefits of research in practice.
Declarations
Acknowledgements
AA is funded through a Clinician Scholar Award by the Quebec Health Research Fund (Fonds de Recherche du Québec – Sante) and the Quebec Federation of Medical Specialists (Fédération des Médecins Spécialistes du Québec).
Open AccessThis article is distributed under the terms of the Creative Commons Attribution 4.0 International License (http://creativecommons.org/licenses/by/4.0/), which permits unrestricted use, distribution, and reproduction in any medium, provided you give appropriate credit to the original author(s) and the source, provide a link to the Creative Commons license, and indicate if changes were made. The Creative Commons Public Domain Dedication waiver (http://creativecommons.org/publicdomain/zero/1.0/) applies to the data made available in this article, unless otherwise stated.
Authors' Affiliations
(1)
Department of Family Medicine and Department of Epidemiology, Biostatistics and Occupational Health, Faculty of Medicine, McGill University, Montreal, Canada
(2)
Lee Kuan Yew School of Public Policy, National University of Singapore, Singapore, Singapore
(3)
Institute of Population Health, Faculty of Medical and Human Sciences, University of Manchester, Manchester, England
(4)
Public Health England, London, England
(5)
Department of Preventive and Social Medicine-Health Policy, Faculty of Medicine, Federal University of Minas Gerais, Belo Horizonte, Brazil
(6)
Evidence Informed Policy Network (EVIPNet) Steering Group, World Health Organization, Geneva, Switzerland