A participatory action research approach to strengthening health managers' capacity at district level in Eastern Uganda
Health Research Policy and Systems
2017
15(Suppl 2):110
Published: 28 December 2017
Abstract
Background
Many approaches to improving health managers' capacity in poor countries, particularly those pursued by external agencies, employ non-participatory approaches and often seek to circumvent (rather than strengthen) weak public management structures. This limits opportunities for strengthening local health managers' capacity, improving resource utilisation and enhancing service delivery. This study explored the contribution of a participatory action research approach to strengthening health managers' capacity in Eastern Uganda.
Methods
This was a qualitative study that used open-ended key informant interviews, combined with review of meeting minutes and observations to collect data. Both inductive and deductive thematic analysis was undertaken. The Competing Values Framework of organisational management functions guided the deductive process of analysis and the interpretation of the findings. The framework builds on four earlier models of management and regards them as complementary rather than conflicting, and identifies four managers' capacities (collaborate, create, compete and control) by categorising them along two axes, one contrasting flexibility versus control and the other internal versus external organisational focus.
Results
The findings indicate that the participatory action research approach enhanced health managers' capacity to collaborate with others, be creative, attain goals and review progress. The enablers included expanded interaction spaces, encouragement of flexibility, empowerment of local managers, and the promotion of reflection and accountability. Tension and conflict across different management functions was apparent; for example, while there was a need to collaborate, maintaining control over processes was also needed. These tensions meant that managers needed to learn to simultaneously draw upon and use different capacities as reflected by the Competing Values Framework in order to maximise their effectiveness.
Conclusions
Improved health manager capacity is essential if sustained improvements in health outcomes in low-income countries are to be attained. The expansion of interaction spaces, encouragement of flexibility, empowerment of local managers, and the promotion of reflection and accountability were the key means by which participatory action research strengthened health managers' capacity. The participatory approach to implementation therefore created opportunities to strengthen health managers' capacity.
Keywords
District health managersHealth systemsParticipatory action researchCompeting values frameworkUganda
Background
Participatory approaches are progressively being adopted to improve health managers' capacity [1]. The concept of 'learning health systems' is now increasingly used to describe approaches that create partnerships among stakeholders and promote participation and learning [2]. However, in low-income countries, the reported contribution of participatory approaches to health interventions is largely restricted to community interventions and representation of communities on quality improvement committees [3–5]. Studies showing the use of participatory action research (PAR) to improve health managers' capacity are limited. This study provided empirical knowledge on the contributions of PAR to enhancing health managers' capacity in low-income countries.
According to WHO, health management is key and contributes direct benefits to the entire health system [6, 7]. Managers capacity-building is the process by which management capacities are learned or achieved to enable execution of key functions [8]. Central to managers functions are aspects of setting and achieving goals, problem solving, efficient use of resources and getting people to work together harmoniously [7, 9].
Managers capacity-building has mainly been approached through formal training programmes [10], which offer certain benefits but are not on their own sufficient to build the needed capacities for a health manager [10, 11]. On-the-job training, action learning and organisational experiences are some of the other complementary approaches for capacity-building [12, 13], each of which provide unique learning opportunities, but are also not devoid of challenges [12].
In low-income countries, management structures in the health sector are weak. The capacity of health managers at sub-national levels especially in rural districts, is even weaker [12]. Weak management undermines the performance of health systems despite widely available evidence on how to improve specific health outcomes [14]. The translation of this evidence into sustainable interventions at scale is often suboptimal. This is partly explained by limited local management capacity, other systems weaknesses and the heavy reliance on donor funding and external expertise [12, 15]. Such weaknesses usually attract local and international external agencies, including universities, non-governmental organisations and United Nations agencies, to remedy the situation.
The agencies habitually implement parallel projects to respond to specific health conditions such as malaria or HIV infections [16, 17]. They train staff and erect parallel structures to implement these time-limited projects [16]. While this registers short-lived achievements due to their reliance on external resources and expertise, continuity and scale up is seldom realised. Such external reliance undermines the development of local capacity, such as managers skills, which could be leveraged for continuity and possible scale-up [18]. Ironically, developing health managers' capacity particularly at the sub-national level has often received relatively less attention, thus perpetuating health system weaknesses [19].
In Uganda, due to the decentralised form of governance, weaknesses in local health management capacity have worsened the already poor health outcomes in rural areas [20]. The local system is characterised by unresponsive local governments, low staffing levels, frequent stock-out of essential medicines and supplies, low motivation of workers, and a largely non-supportive work environment [21]. In addition, inadequately funded local governments are unable to respond to health managers' capacity development needs, which further undermines the performance of the health system [17, 20]. Nonetheless, many research studies engage with districts in Uganda, thus presenting opportunities to learn how approaches to research could build local capacity and strengthen existing local health systems.
The Makerere University School of Public Health (MakSPH) is an example of a local external agency supporting the health system in Uganda through research studies. A research team at MakSPH used the PAR approach to improve maternal and neonatal health outcomes, which continue to remain poor in Uganda despite several interventions [22]. Further, the PAR approach offered opportunities to overcoming scale-up and sustainability challenges such as weak health management [23, 24]. PAR is a research approach that involves all relevant parties in collectively examining their current problematic situations in order to change and improve them [25, 26].
In this study, we explored the contributions of PAR to strengthening local health managers' capacity. We used the Competing Values Framework (CVF) of management functions as an interpretative lens to examine the contribution of PAR to enhancing health managers' capacity. The next two sections provide a brief description of the Maternal and Neonatal Implementation for Equitable Systems Project (MANIFEST) implemented by MakSPH using PAR and the CVF.
The MANIFEST project and the PAR approach
The project was implemented in the districts of Kamuli, Pallisa and Kibuku found in eastern Uganda, from January 2012 to December 2015. These districts have a combined population size of more than 355,000 people [27]. The MANIFEST project aimed to contribute to a sustained reduction in maternal and neonatal mortality by using Gerald Susman's PAR approach [25]. The approach has five main phases depicted in a cycle – problem identification, deduction of possible solutions, taking action, reflecting on the consequences of the actions and specifying learning. In 2012, during the formative stage of the project, different stakeholders were initially engaged to identify problems and solutions with regards to the poor maternal health outcomes in their respective districts.
After a series of participatory analysis and reflections, the intervention package agreed upon tackled both demand and supply side constraints to accessing maternal and newborn care [18]. In this paper, we focus on the supply side, in which supportive supervision, mentoring, training of health workers and managers, and recognition of good performing health workers were undertaken to improve the quality of health services. In addition, the PAR approach was used as a means of strengthening local capacity to improve on the quality of service delivery, which included improving health managers capacity. Indeed, health managers were part of the stakeholders that were initially engaged in identifying the problems affecting maternal health outcomes and they subsequently suggested and discussed the solutions, which informed the intervention package. In total, there were 42 health managers actively involved in implementation of the MANIFEST project in different capacities across the three districts during the different phases of PAR. For example, at the phase of taking action, select district level health managers were at the forefront of the coordination and implementation of the project activities, supported by health facility health managers at sub-county levels.
To undertake the reflection and learning, quarterly review meetings (from June 2013 to April 2015) were held at district, sub-county and community levels. Table
1
provides the details of stakeholders involved in the project review activities at different levels. Different persons led the reflection and learning processes during these meetings at different levels. MANIFEST project team members actively supported these meetings to promote learning. The PAR cycle was repeated on a quarterly basis with a refinement of issues to be handled or new ones. More details of the PAR approach as used in the MANIFEST study have been published elsewhere [
24
,
28
]. Herein, we explored the contributions of PAR to strengthening the health managers' capacity.
Table 1
Participants, facilitators and support teams of the project activities at different levels
Level of implementation/review meetings

Stakeholders/participants

Lead facilitators

Support teams

District level:

District implementation committee meetings

Health managers, political heads, assistant district health managers, district senior nursing officers, health educators, biostatisticians, community development officers, secretaries for health to the district councils, resident district commissioners, chief administrative officers, heads of health sub-districts or hospital managers, internal security officers, health information officers, a representative from the NGO forum, local religious leaders, and health accountants

Health managers, senior nursing officers, political and administrative heads of the districts

At least four members of the MakSPH project team; the project team attended all the meetings every quarter

Sub-county level:

Sub-county implementation committee meetings

Administrative and political heads of the sub-counties, secretaries for health to the sub-county council, health centre III managers, community development officers, health assistants, and local religious leaders

Administrative and political heads of the sub-counties

Two district level supervisors (managers), who were members of the DHT

Two members of the MakSPH project team; the project team attended all the meetings every quarter

Community level:

VHT group meetings

VHTs in a particular sub-county; there were 850 villages in the intervention area; every village had 2 VHTs; each sub-county held 1 or 2 meetings depending on the number of VHTs

Health workers, facility health managers and health assistants who provided supervisory oversight to the VHTs

Two district level supervisors (managers), who were members of the DHT

Two members of the MakSPH project team; the project team attended at least 12 VHT group meetings every quarter
The MANIFEST implementation context
The intervention package was implemented using the decentralised district structures and resources (Fig.
1
) [
29
]. The use of existing structures was meant to strengthen them so as to increase chances of continuity and sustained capacity improvements. At district level, the health department ensures the delivery of health services. Under the MANIFEST project, the health department coordinated and implemented district level project activities. The department is typically comprised of about 15 members technically referred to as the district health team (DHT). The DHT is headed by a district health officer (DHO) and is supported by a number of other health staff, including the district health educator, the district heath inspector, focal persons for different programmes such as immunisation and maternal/child health, and the district biostatistician. The health department was supported by the District Health Management Team, which is also headed by the DHO. The District Health Management Team, in addition to DHT members, includes health facility managers, politicians, administrators, and representatives from local non-governmental organisations, the private sector, other departments and external agencies.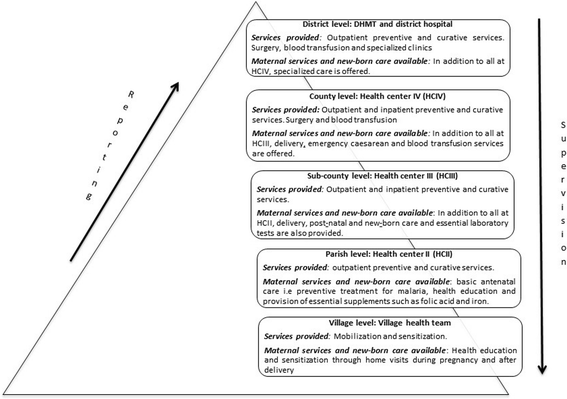 The DHO is usually a medical officer with postgraduate training in public health. While the DHO is formally employed to undertake managerial duties, they might also practice clinical medicine, especially in rural districts where attracting medical officers is a challenge. The other DHT members hold different qualifications, including nursing, environmental health sciences and biostatistics. They often have no management training at the time of appointment to these offices, but, owing to their senior positions, they sometimes benefit from limited training opportunities supported by the local governments to improve their management skills [30]. Below the DHT are service delivery facilities, which are usually organised into a health sub-district comprising a number of health facilities within a specific catchment area.
Figure 1 provides a summary of the services offered at each level of care. Each of the service points from the parish level upwards are managed by a health facility manager, who works with a team of other health workers organised into departments. The organisational and management aspects get more complex at each higher level of care. Facility managers (except for hospital managers) undertake managerial roles in addition to their formal clinical or nursing roles, as additional assignments rather than official appointments [30]. This further exacerbates management weaknesses as it creates a low sense of commitment to the role and attracts less attention for capacity-building. The facility managers offered oversight to the project activities and were involved in implementation of project activities at sub county level.
Health managers at various levels are often constrained by budgetary limitations and inadequate skill sets to navigate systems challenges. Managers, just like other civil servants at the district level, often operate within a laissez faire environment and attitude characterised by low commitment to quality, limited availability at work stations and low motivation [21, 31]. In addition, there is a generally poor linkage among different local government structures and levels, and a high level of dependence on external agencies to implement projects.
Finally, external agencies often provide support to the districts ranging from one-off trainings to the actual provision of specific services. MakSPH, as an external agency, implemented the MANIFEST intervention within the decentralised structures of the districts by providing technical guidance and funding project-activities in a participatory manner. MakSPH was involved in training of local stakeholders to implement project activities, participated in activity implementation, review meetings, monitoring and quality assurance.
Conceptual framework – CVF
The CVF (Fig.
2
) was chosen first because it is a complex representation of earlier models of management functions, i.e. the rational goal, internal processes, human relations and the open systems models [
32
]. Each of these emphasised a limited set of functions; however, CVF asserts that all four models, although differing in focus, should be viewed as necessary and complementary in modern times [
32
]. Secondly, the framework has mainly been used to undertake quantitative assessments of organisational cultures [
33
,
34
]. Qualitative inquiry enhances the use of the CVF by revealing the complexities in management functions.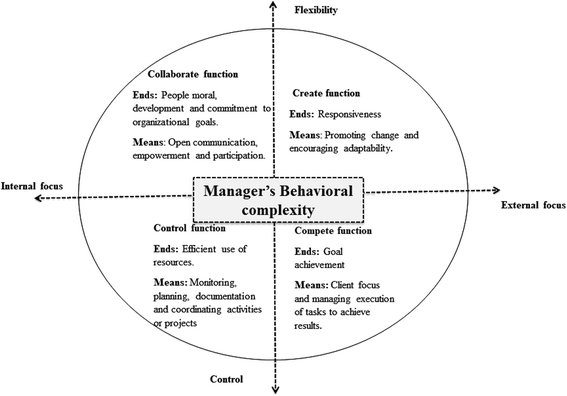 CVF identifies four manager capacities (collaborating, creating, competing and controlling) by categorising them across two axes, one contrasting flexibility versus control, and the other internal versus external focus. The categorisation is a demonstration of the complex, not mutually exclusive, managers' capacities. The framework further asserts that managers need to develop behaviour complexity, which is the ability to simultaneously draw upon and use the four different capacities reflected in the framework at any one time as a measure of effectiveness [9].
Under the 'collaborate' function of management, the aim is to maximise workers' morale, development and commitment to organisational goals. Skills for open communication, people empowerment and participation are needed to achieve this [32]. The 'create' function aims at promoting responsiveness to clients' needs. To achieve this, a focus on the ability to promote change, be adaptable and respond to client needs is required. In the 'compete' function, the objective is to achieve set goals. Managers are encouraged to support their teams in building a shared vision for client satisfaction and to manage the execution of tasks to achieve set goals [32]. Finally, the 'control' function seeks to ensure an efficient use of resources, emphasising the need for planning, monitoring, documentation and coordination of activities [35].
Methods
Study design, selection of informants and data collection techniques
We undertook a qualitative study that explored the management skills gained by health managers engaged through a PAR approach to implement the MANIFEST project. Herein, we focused on district level and health facility managers.
A total of 16 purposively selected managers were interviewed individually, including seven district level health managers and nine health facility managers across the three intervention districts. These were purposively selected because of their direct management responsibilities and involvement in the implementation of MANIFEST project. Our sampling approach ensured the maximum variation principle of qualitative research [36]. The district level health managers were the lead coordinators of the MANIFEST activities and were responsible for planning, scheduling and leading the review of activities at the district levels and supervising those at sub-county level. At the sub-county level, the health facility managers played three main roles, namely overseeing the implementation of community level activities such as community dialogues, home visits by village health teams (VHTs) and supervising the VHTs. In addition, they represented the health facility at the sub-county level quarterly review meetings.
To collect the data, an open-ended interview guide was used to allow for flexibility and to create a good level of rapport with the informants. All interviews started with sensitising concepts [37] from the PAR and management literature such as collaborating with others, reflecting on actions, fostering new ideas, planning and leading others. While these guided the discussion, care was taken to remain open to emerging directions of the interviews and probing was undertaken following the responses of the informants. On average, the interviews lasted 45 minutes each. All interviews were digitally recorded and later transcribed by a research assistant whose work was checked for consistency by the first author (MT). These interviews were conducted in August 2015, which was the last year of the MANIFEST intervention.
In addition, minutes taken from the two quarterly review meetings of the different stakeholders at district and sub-county levels were reviewed to supplement the interview material. These were deemed to provide a wider scope of issues tackled during the entire implementation period of the project. Review meetings were planned and happened in eight out of the 12 quarters in which the MANIFEST intervention was implemented. In addition, reflections from the earlier meetings as well as other project activities and interactions were captured through the participant observation undertaken by MT.
The quarterly meetings at district level had a minimum of 15 participants who formed the district implementation committee for the intervention. At sub-county level, a similar committee was comprised of at least seven persons in each of the 27 sub-counties in which MANIFEST was implemented. The sub-county quarterly review meetings combined two or three sub-counties at each venue mainly to foster learning across sub-counties but also for logistics. The participants in these meetings are detailed in Table
1
. The different data sources served the purpose of triangulation of study findings; a technique that is synonymous with qualitative research [
38
]. Table
2
is an illustration of the data sources.
Table 2
Data sources for the study
Kind of data source

District level

Health facility level

Total

Interviews with Health managers

7

9

Total

16

District level

Sub-county level

Quarterly review meeting minutes from the 1st and 2nd quarters of 2015

2 from each district

2 from 2 sub-county level review meetings in each district

Totals

6

12

18

Participant observation notes from review meetings and other project activities at regular quarterly intervals for a period of 3 years (2013–2015)

The first author was actively involved in monitoring and offering support during the implementation process to the district stakeholders and usually made reflective memos, which informed the analysis process
Data analysis approach
An inductive and deductive approach to thematic analysis was adopted [39]. The process started during the data collection, where reflection and memo taking were applied to identify points of saturation [39]. At interview 15, the themes started to repeat; however, one more interview was added to ensure complete saturation. After the data was transcribed, it was exported into MAXQDA for Mac version 11.2.1. Next, the transcripts were read and re-read by MT to get familar with the dataset.
An inductive open coding process followed; at this stage, the reflective process continued, where MT was careful to remain open to the data and themes that arose. To aid this process, the codes were shared with co-authors (ABC, AKH, SK and EEK) for review and interpretation in an iterative process that involved going back to the transcripts and recodings.
Thereafter, grouping the codes that shared common aspects was undertaken to form categories guided by the four management capacities of the CVF through a deductive analysis process [32]. The categories were further developed into four themes by identifying linkages and relationships between them. Similarly, looking for both confirmation and deviance from themes continued through the deductive thematic analysis process. This was undertaken by using a data extraction table that aided in the review of the meeting minutes and observations. In general, the meeting minutes and memos confirmed and enriched the interview findings. For example, action points relating to some of the creative innovations expressed by the informants were searched for and linked to the management skills that were reported to have improved. Finally, crosschecking of the themes against open codes and transcripts was undertaken to ensure connectedness of themes to the transcripts [39].
Results
The themes developed are presented according to the functions of management articulated by the CVF [
32
,
40
]. To supplement the findings from the interviews, reflections from the observations and meeting minutes related to the four management capacities were added. Figure
3
demonstrates the boundless nature of the four management functions found to have been enhanced in this study. The PAR approach enabled the health managers to simultaneously develop their skills to collaborate, create, compete and control depicted by the dotted lines along the pyramid, making a manager more effective in today's dynamic and complex world.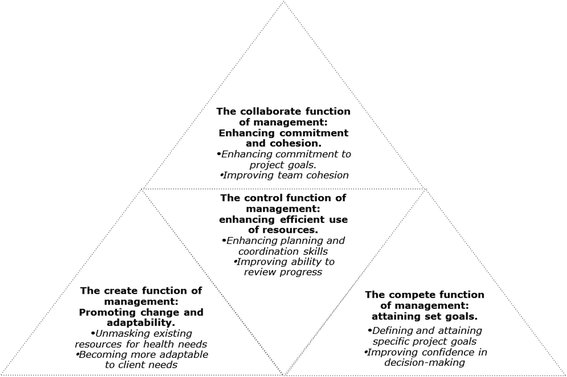 Discussion
This study presented our findings according to the four CVF management functions [32], namely the 'collaborate' function of management – enhancing commitment and cohesion; the 'create' function of management – promoting change and adaptability; the 'compete' function of management – attaining set goals; and the 'control' function of management – enhancing efficient use of resources.
This study found that the PAR approach enhanced the management functions in four main ways, namely by expanding the managers interaction space, encouraging a flexible approach to research and implementation, empowering managers to plan, coordinate and implement project activities, and promoting their analytical reflection and accountability skills.
First of all, the PAR approach, through its wide stakeholder involvement, expanded interaction space among players in the health system at district level. According to the CVF, involvement of others through open communication, mentoring and team building is essential for morale, commitment and people development, which are the focus of the 'collaborate' function of management. Participation of different stakeholders (Table 1) in an intervention led to motivation, the creation of a sense of local ownership and generated commitment to common courses of action [41]. On the other hand, non-participatory approaches often create a sense of dependency on expert knowledge and solutions, hence limiting workers morale, personal development and commitment to organisational goals [3, 42]. However, the use of participatory approaches has to be matched by organisational level commitment to facilitate collaboration, otherwise it becomes demotivating when managers fail to positively interact with stakeholders with varying power positions such as local government officials [3].
Secondly, flexibility boosted the 'create' function of management. Managers reported that participation and flexibility promoted interaction, which nurtured local ideas and novelty. In addition, the wide stakeholder involvement synonymous with flexibility enabled managers to identify client needs and to be responsive, therefore cultivating a favourable work environment for themselves [43]. This is a rare attribute of non-participatory approaches that usually have a heavy reliance on external knowledge and expertise [18]. Moreover, limited engagement of stakeholders in externally controlled projects makes adjustments to protocols and procedures to meet dynamic client needs difficult. Notwithstanding, some managers indeed prefer the 'clarity' that comes with non-participatory projects [44]. While strict protocols are useful for testing hypotheses, approaches that allow learning in the 'real' and dynamic world could be more appropriate for proven interventions and systems research [5].
Thirdly, the PAR approach improved managers' skills to plan, coordinate and implement project activities. It is imperative to note that management capacity transcends simple possession of knowledge (which can be acquired through training) to include behavioural capacity for appropriate application [32]. From the managers' perspectives, the PAR approach provided opportunities to practice theoretical knowledge on planning, coordination and implementation of activities. This was found to be essential in enabling managers to enhance key management capacities within the 'compete' and 'control' functions of management, which are a vital set of skills for circumventing the different layers of authority and power to achieve goals and ensure efficiency, respectively [45, 46].
Lastly, the PAR approach enhanced analytical reflection and accountability skills among health mangers. The approach promoted the local scheduling of activities, budgeting, execution and accountability of and for project activities and funds, respectively. In addition, the review phase of the PAR cycle strengthened monitoring and advanced the development of a progress review culture. These features of the PAR approach where useful in enabling health managers to develop skills relevant for the 'control' capacities of management such as documentation, planning of activities and monitoring.
Methodological considerations
The study results have to be interpreted in the context of key methodological considerations. Firstly, MT conducted the interviews and observations for this study; he has a masters' degree in Public Health and served as a coordinator for the MANIFEST project. He had at least 8 years of implementation research experience by the study time, which involved active engagement of district level health systems to improve their responsiveness to the populations. Therefore, he had an established relationship with the informants of this study prior to the interviews. Two other authors (EEK and SNK) of this paper were also actively involved in the implementation of MANIFEST. These dual roles indeed influenced the manner in which the study was conducted. Being 'insiders', this enabled MT, EEK and SNK to adequately understand and describe the context within which the study results were obtained and interpreted. Further, with the established trust with the informants, MT, who had worked for over 8 years in different research roles, was able to openly discuss both the desirable and undesirable outcomes of the project.
Secondly, at the start of the MANIFEST project, the purpose of the intervention was jointly reached between the researchers and the local stakeholders. Similarly, while undertaking this specific study, since it was embedded in the MANIFEST project, specific communication regarding the purpose of the study was given by MT. The informants were made aware of the goal to contribute knowledge relevant for the strengthening of health managers' capacity at district level. With this goal, MT held the assumption that PAR provided opportunities to strengthen health managers' capacity, which definitely which could have biased him to think of PAR only in positive ways. Being aware of this possibility prepared MT to respond accordingly. For instances where a tendency to report only desirable outcomes was noted, working with authors (ABC, AKH, SB, AG) not directly involved in MANIFEST minimised such influences, thereby increasing the credibility of the study. Additionally, as noted in the methods section, we inductively studied PAR's ability to strengthen management capacity as our initial conception and then abduction was applied to compare it to the CVF on management functions. Lastly, the use of different methods enabled us to triangulate our findings and thereby strengthened the deductions made [47].
Thirdly, interviews from other stakeholders working with the health managers such as politicians and administrators, would have enriched the health managers' perceptions of their enhanced capacity. The stakeholder-wide review of meeting-minutes and observations made by MT nonetheless served to supplement and triangulate the findings from the managers' interviews.
Conclusions and recommendations
Strong health management systems are core to the strengthening of health systems in low-income countries; however, health managers' capacity, as well as the approaches used to strengthen it, are often weak especially at sub-national levels. Good management will ultimately ensure better resource utilisation. The use of a PAR approach strengthened local managers' capacity, which enhanced chances for continuity of the health improvements. Consequently, this study harnessed the contributions that participatory approaches to health interventions could offer to enhance district health managers' capacity.
Managers' abilities to collaborate with others and be creative were enabled through expanded interaction spaces, openness, practice opportunities, promotion of local ideas and solutions, and challenging of the status quo. On the other hand, the 'compete' and 'control' functions of management were enhanced mainly through the empowerment of managers to better plan, coordinate and implement activities. In addition, opportunities to monitor and review project activities sharpened the managers' capacity in analytical reflection and accountability skills. Building managers' capacity is thus a complex phenomenon that requires different perspectives and stakeholders working in synergy, notwithstanding emerging conflict.
It is therefore recommended that external researchers intervening in the health sector use participatory approaches especially when undertaking implementation and health systems research that seeks to answer complex questions. Such approaches create opportunities to strengthen local structures such as management, which are essential for a sustained improvement in health outcomes. The use of participatory approaches should nonetheless be adopted with caution as other studies found them time-intensive, and requiring prolonged engagement and organisational level commitment. They also often challenge institutional cultures and can initially create strain and conflict; however, as noted above, this may be essential for creating needed changes. The use of non-participatory approaches is nonetheless relevant, especially for experimental studies that require strict control of procedures to prove concepts and ideas.
Open peer review
Peer review reports for this article are available in Additional file 1.
Declarations
Acknowledgements
We are very grateful to all the funders of this work for the financial support provided. We would also like to acknowledge the Future Health Systems (FHS) Consortium for other technical support. Special thanks go to the research participants and research assistants who took part in this study.
Funding
The research was funded in part by a grant from Comic Relief (grant code 112483) to the MANIFEST project. The research was further funded by a doctoral fellowship from the Swedish Center Party Donation for Global Health Research Collaboration. In addition, the Centre for Global Health Research at Umeå University funded the research with support from FAS, the Swedish Council for Working Life and Social Research (grant number 2006-1512). This publication was funded by the UK Department for International Development through a grant (PO5467) to the Future Health Systems (FHS) Consortium.
Availability of data and materials
The study utilised mainly qualitative individual interviews, observations and meeting minutes. These can be made available on request. The first author of this paper has safely stored these materials.
Authors' contributions
All six authors contributed towards the design of the study, review of data collected, analysis and synthesis. MT collected the data, led the analysis and drafted the manuscript. In addition, all authors contributed towards the revision of the manuscript, and read and approved the final manuscript.
Ethics approval and consent to participate
Ethical clearance to conduct the study was obtained from the Makerere University School of Public Health Higher Degrees and Ethical Review Committee (HDRC) (Reference number: IRB00011353). Similar clearance was sought from the Uganda National Council of Science and Technology (UNCST-SS3506). Informed written consent was sought from all informants interviewed after assuring them of confidentiality and anonymity when reporting study findings.
Consent for publication
Consent to publish was sought for as part of the consent to participate during the data collection. Confidentiality and anonymity was assured to the participants.
Competing interests
The authors declare that they have no competing interests.
Publisher's Note
Springer Nature remains neutral with regard to jurisdictional claims in published maps and institutional affiliations.
Open AccessThis article is distributed under the terms of the Creative Commons Attribution 4.0 International License (http://creativecommons.org/licenses/by/4.0/), which permits unrestricted use, distribution, and reproduction in any medium, provided you give appropriate credit to the original author(s) and the source, provide a link to the Creative Commons license, and indicate if changes were made. The Creative Commons Public Domain Dedication waiver (http://creativecommons.org/publicdomain/zero/1.0/) applies to the data made available in this article, unless otherwise stated.
Authors' Affiliations
(1)
Makerere University School of Public Health (MakSPH), Makerere University, New Mulago Complex, Kampala, Uganda
(2)
Epidemiology and Global Health Unit, Department of Public Health and Clinical Medicine, Umeå University, Umeå, Sweden
(3)
Sociology Department, Umeå University, Umeå, Sweden
(4)
Department of International Health, Johns Hopkins Bloomberg School of Public Health, Johns Hopkins University, Baltimore, United States of America
(5)
School of Public Health, University of the Western Cape, Bellville, Republic of South Africa