Research
Open Access
Open Peer Review
This article has Open Peer Review reports available.
Health policy and systems research agendas in developing countries
Health Research Policy and Systems
2004
2:6
Received: 06 February 2004
Accepted: 05 August 2004
Published: 05 August 2004
Abstract
Background
Health policy and systems research (HPSR) is an international public good with potential to orient investments and performance at national level. Identifying research trends and priorities at international level is therefore important. This paper offers a conceptual framework and defines the HPSR portfolio as a set of research projects under implementation. The research portfolio is influenced by factors external to the research system as well as internal to it. These last include the capacity of research institutions, the momentum of research programs, funding opportunities and the influence of stakeholder priorities and public opinion. These dimensions can vary in their degree of coordination, leading to a complementary or a fragmented research portfolio.
Objective
The main objective is to identify the themes currently being pursued in the research portfolio and agendas within developing countries and to quantify their frequency in an effort to identify current research topics and their underlying influences.
Methods
HPSR topics being pursued by developing country producer institutions and their perceived priorities were identified through a survey between 2000 and 2002. The response to a call for letters of intent issued by the Alliance in 2000 for a broad range of topics was also analyzed. The institutions that were the universe of this study consisted of the 176 institutional partners of the Alliance for Health Policy and Systems Research producing research in low and middle income countries outside Europe. HPSR topics as well as the beneficiaries or issues and the health problems addressed were content analyzed. Topics were classified into 19 categories and their frequency analyzed across groups of countries with similar per capita income. Agendas were identified by analyzing the source of funding and of project initiation for projects under implementation.
Results
The highest ranking topic at the aggregate level is "Sector analysis", followed by "Disease burden" and "Management and organization". Categories at the bottom of this ranking are "Equity", "Policy process", "Economic policy and health" and "Information systems". "Disease burden" is more often funded than other topics for which there is more demand or perceived priority. Analysis suggests few although important differences across priorities, demand for funding and actual project funding. The donors' agenda coincides most with the ranking of research topics overall.
Ranking across country income groups shows important differences. Topics that gain prominence in low income countries are "Disease burden" and "Accessibility". In lower middle income countries "Insurance" gains prominence. In upper middle income countries "Decentralization/local health systems", "Equity" and "Policy process" are more prominent. "Program evaluation" is the most consistently ranked topic across income regions, showing a neutral influence by donors, governments or researchers.
Conclusions
The framework proposed offers a basis to identify and contrast research needs, projects and products at the international level and to identify the actor agendas and their influence. Research gaps are suggested when comparing topic ranking against the challenges to health system strengthening and scaling up of disease control programs. Differences across per capita income groups suggests the need for differentiated priority setting mechanisms guiding international support. Data suggests that stakeholders have different agendas, and that donors predominate in determining the research portfolio. High-level consensus building at the national and international levels is necessary to ensure that the diverse agendas play a complementary role in support of health system objectives.
The Ministerial Summit for Health Research to be held in Mexico in November 2004 should be an opportunity to analyze further data and to commit funding for priorities identified through sharing and discussion of agendas.
Keywords
Policy ProcessActor AgendaIncome RegionLower Middle IncomeProject Portfolio
Background
Countries and international agencies have made a qualitative leap in the funding of the global disease challenges. The Global Fund for AIDS, TB and Malaria has received pledges totalling over US$ 2 billion. Bilateral donors are also making important funding contributions. In this context, strengthening of health systems has become a critical issue. Research can play a major role to identify the best policies to channel massive efforts, to ensure that vertical approaches do not fragment fragile health systems and to monitor and evaluate progress. How relevant is the research effort being undertaken in developing countries, and how is the agenda being driven?
WHO is organizing the Ministerial Summit on Health Research, to be held in Mexico City, 23 to 26 November, 2004. The main theme will be the role of health research in meeting the Millennium Development Goals. Health policy and systems research (HPSR) will have a prominent role in the context of the scaling up of efforts against major diseases and child and maternal mortality. Looking towards the Summit, WHO established a task force to identify HPSR priorities as an effort to advocate for major funding in this area. The Alliance for Health Policy and Systems Research, an initiative of the Global Forum for Health Research in collaboration with WHO, has been promoting since its inception in 2000 the identification of research priorities among producer institutions in developing countries.
This paper proposes a conceptual framework and a methodology to think about the HPSR research portfolio, the agendas that influence it and the priority setting process. The paper makes the case for the formulation of HPSR priorities at national, international and global levels. A previous article [1] looked at research capacity among Alliance partner institutions in the South and identified the need to increase funding to establish long term research projects as a basis for sustainable capacity building. Using data from the same survey, indicators are proposed to assess the priority setting process on the basis of various types of data. The scope and value of the conceptual framework and its indicators are illustrated by presenting the HPSR topic ranking on the basis of Alliance partner contributions and the influence upon it of country income and actor agendas. A forthcoming paper will present findings from a new survey now being completed and covering the universe of research producers in the South.
Conceptual framework
Priority setting efforts are often bogged down because of inadequate methods of categorization of the research that is undertaken and the influences shaping it. These influences, in turn, are often not adequately understood, including the nature and role of priorities. The conceptual framework proposed here strives to offer some simple definitions of the research portfolio and its various influences, as well as indicators to measure and relate these concepts.
The nature of overall health research has been defined in terms of basic, applied and strategic research. These categories are useful to guide investment decisions which might maximize benefit [2, 3]. However, within the field of health policy and systems research, little effort has been given to the classification of what is studied. Before priorities can be identified, it is important to be able to agree on what is studied through an analysis of the dimensions that characterize the object of research. Furthermore, it is important to establish the distinction between the object of the research and the factors shaping this choice at various levels.
Methodology and Indicators
Two sources of information were used to illustrate the conceptual framework proposed. The first was a survey of Alliance-HPSR partner institutions in developing countries detailing research priorities and project information. Researchers reported here on the priorities they had received from policy makers in the course of diverse consultations in the past year. The second source was a database of letters of intent (LOI) submitted to the Alliance for funding, where projects were justified on the basis of priorities negotiated by researchers and policy makers or service managers.
Content analysis
This proceeded in several steps. A preliminary list with 24 research topics was identified through an inductive analysis using the research statements expressed in the LOI, which were the most detailed. This list was then used to classify research topics in the projects and priorities expressed in the Alliance partners' profiles. Beneficiaries/issues and diseases/health problems addressed by the LOI, projects and priorities were also categorized and classified at this stage. While projects may have contained more than one topic or beneficiary/issue, the most prominent one was selected. In a few cases where several topics were considered this was indicative of a sector-wide analysis and classified accordingly.
The beneficiaries/issues of the research were classified to include any of four alternative dimensions: a) the demographic group: elderly or children/adolescents, b) level of care: community, primary or hospital, c) the geographical focus: urban or rural, and d): gender, equity/poverty, indigenous populations, and public-private mix. Whenever more than one dimension or aspect was applicable (which occurred only in a small number of statements), a decision was made to include the most prominent.
The concept "equity" was classified both as a topic and as an issue. It was assigned as a topic whenever equity was the main objective of the research and it was addressed through a number of health system attributes such as financing, access, and service delivery. Equity/poverty was considered as an issue when the poor were identified as the main subjects of research or when the equity implications of research directed mainly to another topic were highlighted as a major concern.
The distribution of statements was analyzed according to country income group: low income, lower middle income and upper middle income. These income groups correlate highly with geographical regions, with LI being mostly in Africa and Asia, LMI mostly in Asia and with a particular weight by China, and UMI in Latin America and the Caribbean (table
1
).
Table 1
Glossary of Health Policy and Systems Terms Used for Content Analysis
| TOPIC | TERMS FOUND IN RESPONSES |
| --- | --- |
| Accessibility | Health seeking behaviour, determinants of utilization, coverage, outreach, referral, barriers to care, willingness and capacity to pay, cost-sharing, price regulation, prices, equity in access, demand for health services. |
| Community participation | Community-based strategies, community participation in governance, empowerment, school health, family health strategies, social support networks. |
| Costing & cost effectiveness | Determination & evaluation of costs, cost-benefit of services, economic evaluation, cost-effectiveness of resource allocation, alternative uses for resources. |
| Decentralisation/local health systems | Decentralization policy and process, impact of decentralization on services and health outcomes, district health system development, healthy cities, municipal health services, local government, devolution, community participation in local health services. |
| Disease burden | Prevalence and incidence of diseases, mortality and morbidity, disease profiles, health status, health needs, burden of disease studies, risk factors, determinants of health and disease other than economic or social policy. |
| Economic policy and health | Free trade agreements and health, TRIPPS and health, economic crises and health, impact of poverty reduction and adjustment policies on health, debt reduction and health, social policy and health, social assistance and health issues, intersectoral co-ordination, labour policies and health. |
| Equity | Equity of health system, impact of health reforms on equity, equity and poverty, poverty targeting of services, poverty and health, exclusion. |
| Financing | Financial mobilization, financial allocation, financing policies, national & district health accounts, financial equity, community health financing, financing of specific programmes. |
| Human resources | Personnel management, deployment, migration, motivation, knowledge, attitudes and practices of health personnel, satisfaction, quality of life, human resource policy, human resource performance, traditional healers, training and education of human resources, medical education curriculum assessment, evaluation of medical and nursing teaching programmes. |
| Information, education and communication (IEC) | Information and communication for the general public, health education strategies and impacts, knowledge attitudes and practices (KAP). |
| Information systems | Information needs, informatics, surveillance mechanisms and systems, strengthening of information systems, health monitoring systems, establishment of public domain databases, development of indicators for service management and policy. |
| Insurance | Risks and benefits covered by insurance schemes, community based health insurance, options for health insurance, insurance reform, impact of insurance on health and service outcomes. |
| Management & organization | Health service provider performance, delivery of services, administration, service management strengthening, contracting and provider payment mechanisms, impact of privatization on services, performance agreements, impact of hospital autonomy on service delivery, stakeholders in service management, community participation in management. |
| Pharmaceutical policy & management | Rational drug use, procurement, logistics, herbal medicine, dispensing practices, pharmaceutical regulation, national drug policy, essential lists. |
| Policy process | Stakeholder analysis, role and relationships of actors in the formulation and implementation of policy, role of government agencies in policy formulation, role of community and NGOs in policy formulation, factors influencing policy process, perceptions of policy, decision-making processes, policy negotiation. |
| Programme evaluation | Evaluation and assessment of impact of policies or programmes on specific diseases or services. |
| Quality | Clinical practice guidelines, evidence-based medicine, quality assurance, patient satisfaction. |
| Research to evidence | Health systems research training, health systems research training, outcomes of research, research impact, policy utilization and impact of research, research methods, creation of national HPSR database, priority setting of health research, research ethics, essential national health research, dissemination of research. |
| Sector Analysis | Health sector reforms and implications, health systems development, private health service development, intersectoral collaboration and co-ordination, public/private mix health care, health care organization, regulation, policy formulation on specific diseases, on programmes or on aspects of the health system, sector-wide and system-wide performance. |
Two researchers classified all statements independently and disagreements were discussed and resolved. The 24 topic categories were reduced to 19 to avoid groups with less than 2% of the total number of statements while maintaining topic coherence. Table 1 presents the glossary of terms included under each topic.
The frequency of responses by country for all types of statements is generally proportional to country population, with China, India, Brazil and Bangladesh at the top of the frequency. However, countries with a strong health systems research presence are over-represented, such as Colombia, Argentina, Philippines, Thailand, South Africa, Uganda, Ghana, Cuba, Costa Rica, Benin, Jamaica and Tanzania.
Identification of agendas
The range and emphases of the HPSR portfolio and agendas were mapped through topic content and frequency analysis (Figure
1
). Project and agenda data were also aggregated from the two sources to obtain a general mapping of topics. This was used to assess coherence across actor agendas and with the portfolio and to increase the number of observations to enable analysis by income level.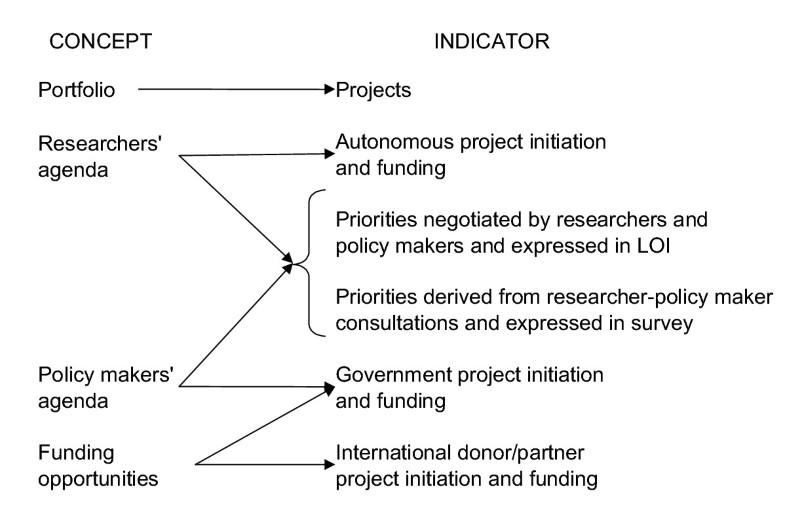 Two methods were used to assess the coherence between the HPSR portfolio and the agendas held by researchers, policy makers and international donors and partners. The first method used the survey data to infer the agendas by observing the topic frequency of: projects proposed and funded by researchers without external assistance; projects initiated and funded exclusively by government, and projects initiated and funded exclusively by international stakeholders or research partners.
The second method compared the research portfolio against the agenda expressed by policy makers. The policy maker agenda was observed through the survey as reported by researchers and through the LOI as negotiated with researchers. A negligible influence by the donor, in this case the Alliance-HPSR, would be expected in the LOI given that the call requested priorities within the generic definition of HPSR presented above.
Each of the three modes of identification of agendas could have method-specific biases. In the first method, preferences are derived from the portfolio itself, that is, from research projects in implementation. Furthermore, the method isolates the preferences expressed by each actor. As such, this method could be deemed to reveal most objectively preferences behind each actor funding or initiating a project. However, projects under implementation may hide topic preferences that are not translated into projects or topics that were generated and funded through joint actor participation.
The observation of negotiated priorities expressed in LOI captures the mix or balance of researcher-side influences and policy maker needs. It will therefore reflect a consensus position across each actor. However, it will exclude the influence of funding opportunities, will not reveal actor-specific preferences and will be limited by the constraints placed on the LOI (see below).
Priorities based on consultations between researchers and policy makers and expressed by researchers through a survey will reveal the understanding and conceptual framework of researchers and may underplay policy-maker needs. Furthermore, these priorities will be influenced by the research projects under execution and reported in the same instrument.
Assessment of coordination between portfolio and agendas
The analysis of relationships or influences across the portfolio and each of the actor agendas, as well as of similarities or differences between agendas, was undertaken by correlating topic frequencies across lists and by undertaking a qualitative analysis of changes in rank order and emphasis.
Analysis of the range and rank of topics across groups of countries by income was undertaken by aggregating project and priority topic data into a reference list representing the combined set of influences on the agenda-setting process, including the portfolio itself. The aggregation of data into a reference list was mainly a strategy to increase the observations and make the analysis more reliable, although it may have validity if it describes the overview of the agenda-setting factors at play. That is, the actual portfolio can be conceived as a force shaping the agendas, together with other factors.
Survey and LOI database
The survey of HPSR producer institutions in developing countries was described in detail elsewhere [1] and includes information for 108 of the 176 Alliance-HPSR partners (61% response rate) who produced research in low and middle income countries outside Europe between 2000 and 2001. The database contains information on the current research portfolio (294 projects were declared) as well as research priorities (402 priorities were stated, with a maximum of 5 per survey). Information on project initiation and source of funding is available for 270 projects. A total of 39 developing countries out of a total of 133 were contacted. Respondents are close to one sixth of the close to 650 institutions known to the Alliance to be producing HPSR in developing countries.
Biases in the partner database could have occurred as a result of preferences by certain type of institutions in joining the Alliance HPSR and in answering the questionnaire required from partners. Over-representation at both levels could have occurred of more competitive and productive institutions with larger project portfolios and funding, and more interest in international funding. On the other hand, larger institutions may have been discouraged from responding given the larger number of projects to be reported, although they would also have more capacity to respond. Furthermore, the response rate could have been lower among institutions where producing HPSR is not a main function.
The LOI database has 403 submissions for research funding in response to a call by the Alliance-HPSR in 2000. Applicants requested funding for one year projects in high priority areas identified jointly by them and national policy makers and stakeholders. A limitation of this database is the exclusion of funding requests for projects over one year as well as topics that would be formulated solely by researchers. Analysis of the partners' database indicates that 24% of projects are of longer duration and that up to 34% of projects undertaken are initiated by the research institution without stakeholder collaboration.
Expansion and standardization
The frequencies of statements for each income region were expanded proportional to population to make comparisons across regions possible. The frequency of statements across the three types of statements (projects, LOI and priorities) was standardized to give each equal weight when aggregating them to analyze the combined representation of the research portfolio and the agenda-setting process as a whole.
Responses show a distribution across income regions proportional to population in some cases and with significant biases in others (table
2
). The low income region (LI) has 50% of the population and 47% of statements, while the upper middle income (UMI) region has only 12% of the population but twice the number of statements, with 22%. The lower middle income (LMI) region is also somewhat under-represented, with 38% of the population and 31% of statements.
Table 2
Distribution of Statements According to Type, Content Category and Geographical Region by Income Group
LI

LMI

UMI

TOTAL

%

Types of statements

Total

%

Total

%

Total

%

Priorities

198

49

143

36

61

15

402

100

Letters of intent

193

48

101

25

109

27

403

100

Projects

124

42

97

33

73

25

294

100

TOTAL

515

47

341

31

243

22

1099

100

Content categories

Topics

482

46

330

31

237

23

1049

100

Beneficiaries or Issues

217

53

113

28

80

20

410

100

Health Problems

132

58

48

21

48

21

228

100

Total statements by geographical region

Africa

247

77

15

5

57

18

319

100

Asia

260

53

214

44

13

3

487

100

Latin America and the Caribbean

8

3

112

38

173

59

293

100

TOTAL

515

47

341

31

243

22

1099

100

Total population in Geographical region

50

38

12

100
The frequency of statements on priorities is as would be expected for the population in each region. However, project statements and demand for funding are biased in favour of UMI, with 25% and 27% of the statements, respectively, against 12% of population share.
Ranking
This was done for each topic or category within the topic by rounding percentage differences to integers and grouping in the same rank all categories falling within the same percentage.
Results
This article does not attempt to provide an exhaustive analysis given the fact that data is limited to Alliance partner producer institutions in the South. The purpose here is to illustrate the potential of the proposed methodology and to present the most robust findings. HPSR topics are first presented and analyzed aggregating in a single list the topics in the research portfolio as well as in the policy maker and researcher agendas. This aggregate representation is then analyzed by groups of countries according to their per capita income. The influence exerted on the HPSR portfolio by various actors is then analyzed.
Conclusions
The analysis of the research portfolio and priorities at the international level shows a widely diversified set of topics, ranging from sector wide issues to more focused program evaluation. The emphasis on sector wide issues reflects the challenges to health systems today and suggests that countries consider as important the macro-level analysis as the micro. Micro approaches with a focused attention to beneficiaries or specific issues are well identified, particularly under the topic of program evaluation.
However, the evidence also suggests a gap between the research that is actually being undertaken and the challenges for strengthening and scaling up of disease control programs. Such a gap is evident in the low emphasis given to research on human resources, policy process, equity, economic policy and health and information systems.
By contrast, the analysis suggests a high degree of attention at the community level, although much attention is also given at the hospital level. Primary care thus seems to be under-emphasized. Considering the disease focus, whenever this was made evident, the data do not suggest a bias towards problems that would not be evidently important at country level.
The fact that the public or private character of research institutions is insignificant for the agenda suggests the capacity of diverse institutions to work within a common agenda.
There are significant differences in the research portfolio across groups of countries based on per capita income, suggesting the need for priority setting mechanisms at both national and international levels that reflect such diversity. The greater congruence between donor preferences and the international research agenda highlight the importance of consensus building between national and international actors. While it is appropriate for governments and international donors to fund different aspects of the research portfolio, this requires high-level priority setting and consensus mechanisms to ensure they complement each other rather than lead to fragmentation.
More research is required to establish the relationships between actors' agendas and the research portfolio at the international level. There is also a need to discuss the most desirable balance of influences and to increase the voice of developing country actors. Evidence-based HPSR priorities emerging through such a process would then be able to support scaling up of research efforts on a par with scaling up of health system strengthening and disease control. Regional and global meetings, such as the Ministerial Summit for Health Research to be held in Mexico in November 2004, are good opportunities to present and discuss the evidence and to commit funding accordingly. Attention must be given to encouraging consensus building on research priorities within regions comprising countries with similar needs. The interests of donors, governments, health workers, the community and researchers must all be taken into consideration so that research funding leads not only to fund relevant research but to build the necessary interfaces for utilization.
Authors' Affiliations
(1)
Manager Alliance for Health Policy and Systems Research World Health Organization, Geneva 27, Switzerland
Copyright
© Gonzalez-Block; licensee BioMed Central Ltd. 2004
This article is published under license to BioMed Central Ltd. This is an open-access article distributed under the terms of the Creative Commons Attribution License (http://creativecommons.org/licenses/by/2.0), which permits unrestricted use, distribution, and reproduction in any medium, provided the original work is properly cited.